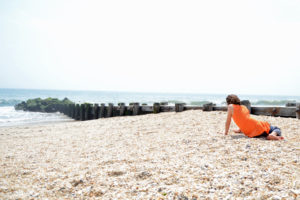 "Climate change is not about a distant, unforeseeable future. It is about the world in which our children live today and the future in which they will raise their own children."  –  AAP report on Global Climate Change and Children's Health
Each year, in honor of Earth Day, I think about how I can help children – those in my practice and those in my home – consider ways they can directly make a difference to keep our Earth healthy.  One consistent message I've conveyed over the years is that how we care for the Earth has a direct impact on our own health.  The directness of that message is often missing in educational programs about climate change, the greatest ecological health challenge of our age.  Kids do seem to know that polar bears and penguins are in danger; they always seem moved by the threat to animals in distant parts of the world.  Yet most are unaware of the real threat to their own well-being right at home.  Why the gap?  There is no lack of information documenting the direct and indirect impacts of climate change on children's health, as I've previously detailed.  If we want our kids to ultimately lead the charge to effectively address climate change, we have to do a more effective job educating them about how complex scientific phenomena directly affect them.  It has become evident that the "facts and fear" approach is not working.  Our natural tendency is to deny and avoid inconvenient, complex truths – and children are even more likely to push away risks that are perceived as far off in the future.  What strategies should we be using to motivate this generation to take effective eco-action?
The best current thinking on influencing climate change action comes from Norwegian psychologist and economist Per Espen Stoknes, author of "What We Think About When We Try Not To Think About Global Warming."  Stoknes acknowledges the disconnect between knowledge and action.  Most important, he has devised a five-step paradigm to bridge the divide; I've adapted it here for our work with children.  Ideally, we would build this paradigm directly into an integrated school science and health curricula, from preK through 12th grade.  Then, truly, would we be raising a generation of eco-warriors.
1.    Be positive: A crucial point, for all of us but especially for kids.  Fear-based approaches have not worked.  There are notable social and economic co-benefits to effectively addressing climate change.  Indeed, engaging in activities that trigger positive emotions leads us to great action.  We should help kids focus on opportunities to "do good" in their neighborhoods.
2.    Make it feel personal, urgent, and local: Nothing drives action for a cause than understanding the personal stakes.  However, we must be mindful when working with kids of various ages to craft the message in sync with their developmental stage.  Young elementary school age kids will need more simple and concrete examples that don't scare them.  Teenagers will be more able to handle more abstract and complex information with greater emotional reach, however we still need to focus on direct impacts to their world, their communities.  How did a recent hurricane and flooding, or lack of rain and drought, affect their families?
3.     Give kids a way to take visible, consistent action: Following on point #2, we need to provide children with simple and direct ways to make their world – their specific community – a better place to live.  Help them examine what's going on in their lives – at their schools, their homes – to start to make a difference.  Maybe pollution from idling buses is a main concern, maybe food waste or recycling or reducing plastic bottle use are problems for them – or maybe something entirely different.  Every bit helps and the more they can connect with ongoing projects that have a visible, apparent impact, the more their "doing good" behaviors will be reinforced.
4.     Reduce polarization: Adults are more sensitive to this problem, that climate change is more a liberal/Democratic issue.  Really, it's a human issue.  Kids more or less get that, however they certainly pick up on messaging from the adults in their lives. The more we can remove the political rhetoric from scientific arguments, the better off we all will be.  This goes for both sides.  No progress is made by demonizing those who believe something you don't.  In order to model effective change strategies for our kids, we must see that those who deny climate change (or the human impact on climate change) are real people, with real fears and wishes, just like us.  We can in fact use these disagreements as opportunities to explore problem-solving strategies when facing complex issues.
5.     Use the power of social networking: Those of us that work with tweens and teens already know well the power of one well-placed viral photo or video.  We can use this power for good.  This generation natively gets social media in a way most of us educating them do not.  They, as peers, are the most important influencers on others kids' behaviors.  Messaging, again, should focus on real-life positive examples of what people (ideally, other same-age kids) are doing in their communities to address climate change.
Additional climate change resources for working with children
NASA ClimateKids: http://climatekids.nasa.gov/menu/teach/
National Wildlife Federation: https://www.nwf.org/Eco-Schools-USA/Become-an-Eco-School/Pathways/Climate-Change/Curriculum.aspx
NOAA Talking to Children about Climate Change: http://oceanservice.noaa.gov/education/climate-stewards/talking-about.html
(originally posted for the Deirdre Imus Environmental Health Center at HackensackUMC)