Why do we need Whole Child Medicine?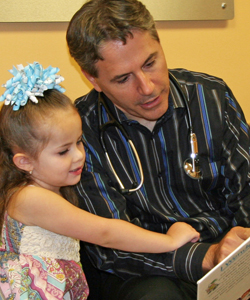 We are at a crossroads.  The health of our children – our future – is at stake.  The statistics are staggering: the rates of autism, ADHD, asthma, food allergies, obesity and diabetes continue to rise at an unprecedented pace.  The conventional solution to date has been a "disease treatment system" that incentivizes more care at higher cost.  Our kids are sicker than ever before, despite throwing tons of money – and quick-fix prescriptions – at the problem.  Our one ill-one pill solution is expensive, ineffective and increasingly unsafe.  Health care transformation is no longer a luxury wish-list item; it has become an absolute imperative.  To meet the complex health challenges we face, we need a new approach: Whole Child Medicine.
What is Whole Child Medicine?
Whole Child Medicine is a complete paradigm shift, a revolutionary new prescription for health.  Based on simple yet profoundly transformative lifestyle changes, Whole Child Medicine provides a roadmap to creating optimal health.  It inspires hope and empowers families to make sustainable changes, encouraging them to create the future they deserve.  These are the guiding principles.
Integrative
Integrative medicine blends the best of conventional and CAM (complementary & alternative medicine) approaches.  It is a holistic practice, valuing wellness in mind, body and spirit as essential to creating optimal health.
Preventive
True primary care medicine is proactive rather than reactive.  Prescribing lifestyle solutions to prevent dis-ease is preferable to costly, increasingly risky treatments.  Preferred prescriptions include food, activity, nature, creativity, rest, mindfulness, and connection.
Eco-sustainable
How we practice healthcare affects the environment, which has a cyclical impact on our health.  Our well-being is intimately tied to the health of our planet.
Context-centered
Children must be nurtured within the context of healthy families, communities and schools.   Health in mind, body and spirit depends on the child-environment fit.
Relationship-based
Only through open communication and building trust are we best able to work together to ensure each child's optimal health. The connection between pediatrician and family has its own healing potential.
Personalized
Health is not a one-size-fits-all proposition.  Each child carries a unique potential based on a complex interplay of genetic and environmental factors. There is no medical treatment that is safe for 100% of any population.  Each family has the inherent right to make health care decisions for their children, being mindful that there are legitimate public health concerns that ethically inform these decisions.
Participatory
The patient is the boss of her health.  Creating health should be a collaborative process actively encouraging participation, putting children and families back in control of their own health.  Patient-centered care creates hope and empowers families to make sustainable changes, inspiring teens and young adults to create the future they deserve.
High tech-High touch
Technology is not inherently good or evil, but a powerful set of tools with the potential to enhance health. Technological advances must be tempered by humanism, facilitating, not hindering, the connections between doctors and patients.